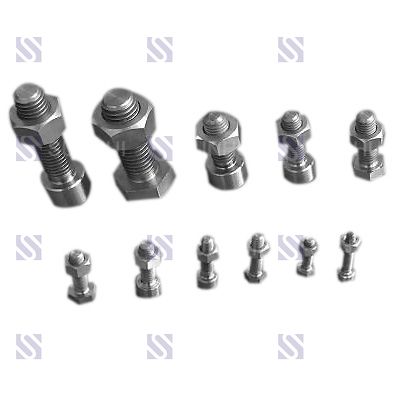 Brief introduction:
Tantalum
is steel gray metal. Tantalum is very hard and its hardness can reach 6-6.5. Tantalum has high melting point which is 2996 ℃. Tantalum has rich ductility, good corrosion resistance and toughness. Tantalum can be processed into many tantalum products, such as
tantalum bar
,
tantalum wire
,
tantalum pipe
,
tantalum sheet
, etc.
Tantalum bolts nuts
are tantalum products.
Purity: 99.95%or 99.99%.
Properties of tantalum bolts nuts:
Tantalum bolts nuts have the same properties as those of tantalum.
Applications of tantalum bolts nuts:
Tantalum bolts nuts produced by our company adhere to corrosion resistance, bright, light and firm characteristics of titanium metal. Tantalum bolts nuts are widely used as fasteners
nut & bolt
in ship, chemical, machinery, telecommunications, electronics, aerospace, oil, electroplating, medical, environmental construction, glasses, medical equipment, auto parts, bicycle, titanium equipment and other industrial enterprises in machinery industry.
Sanhui Co., Ltd is one of nut and
bolt manufacturers
and tantalum nut bolt supply firmly flows customers'requirements.