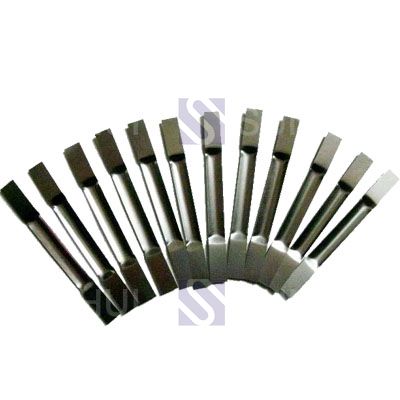 Brief introduction:
As a special and effective kind of boats ,
tungsten boats
are widely used in metellizing,electron-beam spraying as well as sintering and annealing in reduction atmosphere in electronics and light industries.
Tungsten boat
is made by vacuum coating.
The tungsten boats, manufactured by the special production line in our corporation,can provide reliable guarantee of product quality for the users by adopting excellent tungsten materials with high purity,advanced techniques as well as special treatment to the product surfaces. Density of tungsten boat is more than 19.0g/cm3.
Features of tungsten boat:
Tungsten boat has many characteristics, such as good electrical conductivity, thermal conductivity and heat resistance, wear resistance and corrosion resistance. Because of these features, tungsten boat can be used for powder and particle's evaporation.
Tungsten boat manufactured by Zhengzhou Sanhui Co., Ltd has such advantages: reliable quality, good high-temperature behavior.
Applications of tungsten boat:
Tungsten boat
is used in electronics, military, light industries such as metal evaporation. Tungsten boat is also widely applied in CRT, mirror, household appliances, mobile phone, electrical equipment shell and various accessories'vacuum coating industry.
Tungsten boat is widely applied in kinescope, mirror making, toy, domestic appliances, cellphone, all kinds of adornments and other coating industries.
Appearance of tungsten boat:
The surface of tungsten boat is clean and has consistent color, no crack and delamination.
Chemical compositions:
| | | |
| --- | --- | --- |
| W content(>=%) | Total amount of impurities(<=%) | each impurity |
| 99.95 | 0.05 | 0.01 |
Type and size:
| | | | | |
| --- | --- | --- | --- | --- |
| thickness | width | total length | boat length | depth |
| 0.3 | 8-15 | 100-110 | 40-50 | 1.5-2 |
Delivery of tungsten boat is prompt.
At the same time, Zhengzhou Sanhui Co., Ltd can produce
tungsten plate
,
tungsten rod
,
molybdenum sheet
,
molybdenum rod
s,
molybdenum
and molybdenum alloy products (such as high temperature molybdenum, TZM) with various specifications. We also provide various special-shaped products according to customers' requirements.