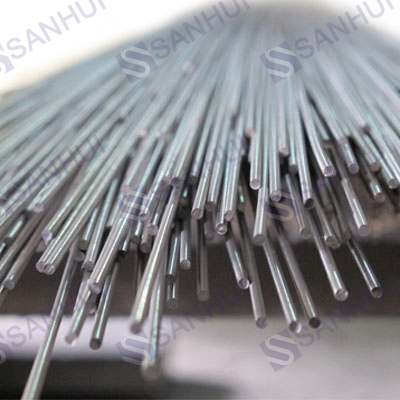 Brief Introduction:
Titanium bar
is produced by shaping, sintering and grinding.
Properties of titanium bar:
Titanium bar has low density, high specific strength, low thermal conductivity, no magnetic property and no toxin and strong tensile strength.
Heat resisting property, ductility, toughness, forming property, weldability, corrosion resistance of titanium bar are all good.
Titanium bar
has light weight, high intensity and excellent biocompatibility, so titanium bar is one ideal metallic material.
Applications of titanium bar:
Titanium bar is most widely used in the commercially pure titanium pressure,vessel some fittings parts and fastening pieces and medical appliance. Titanium bar is also used as
titanium fasteners
, such as
titanium bolts nuts.
Sanhui Co., Ltd can produce titanium bar according to customers' drawing. Special requirements will be agreed on by the titanium suppliers and titanium buyers of negotiation.
Zhengzhou Sanhui Co., Ltd offers titanium and titanium alloy bar, rough titanium bar, titanium profiled bar, titanium square bar, titanium wire bar.
Allowable Deviation of Titanium rod(mm):
Diameter or Thickness
Allowable Deviation
Hot forged bar
Hot roll bar
Cold rolled bar
>7~15
±1.0
+0.6, -0.5
±0.3
>15~25
±1.2
+0.7, -0.5
±0.4
>25~40
±1.5
+1.0, -0.5
±0.5
>40~60
±2.0
+1.2, -0.8
±0.6
>60~90
±2.5
+1.5, -1.0
±0.8
>90~120
±3.0
+2.0, -1.0
±1.0
>120~160
±4.0
——
±1.5
>160~200
±5.0
——
±1.8
>200~230
±6.0
——
±2.0
Deviation of length(mm): L<500, +5max; L>500, +10max
Degree of Curvature:
Processing method
Diameter or Thickness (mm)
Degree of Curvature
(mm/m)
Hot processing
< 35
6
Hot processing
≥35
10
Hot processed, polished
&
cold processed round, square bar
< 35
4