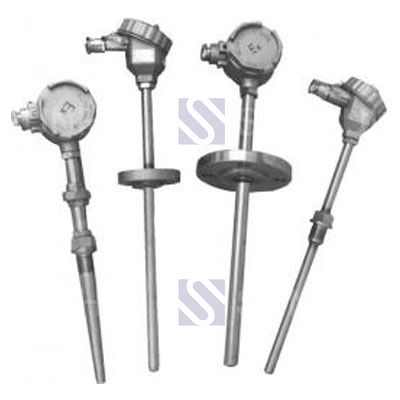 Brief introduction:
W-Re thermocouple
is one kind of
tungsten
products. Thermo-emf output conforms to the ASTM standard.
W-Re thermocouple
is one kind of thermocouple which can resist high temperature.
Chemical composition of W-Re thermocouple:
W Re, (Positive)
W Re, (negative)
Element
Re
W
Re
W
Content,wt%
3.00
balance
25.00
balance
Characteristics and applications of W-Re thermocouple:
W-Re thermocouple
is featured by good linear relationship between temperature and electric potential, reliable thermal stability and cheap price.
As a replacement of Pt/PtRh, the W-Re thermocouple can be used in the steel making furnace for temperature measurement. As expansible thermocouple, the W-Re thermocouple costs only as low as one tenth of the Pt/PtRh one. Also the upper limit of the measured temperature with W-Re couple is about 1000℃ which is higher than that of Pt/PtRh couple.
W-Re thermocouple is easily oxidized, so it is suitably used in inert or dry hydrogen.
Zhengzhou Sanhui Co., Ltd is dealing in refractory metal for more than 8 years, so we have accumulated abundant experience in productive technology and manufacturing management, which ensures fine quality of metal products. We are mainly focusing on tungsten,
molybdenum
,
titanium
and other
refractory metal
products and alloy products.
We can provide customers with metal products with different types and varied specifications to meet customers'requirements.