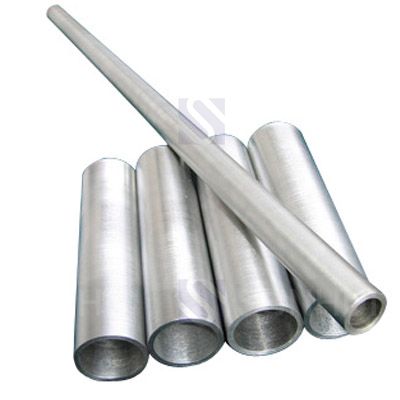 Brief introduction:
Titanium tube
is manufactured by shaping, sintering and polishing.
Properties of titanium tube:
Titanium
has low density, high strength, good toughness and corrosion resistance. Titanium also has good heat resistance, excellent suction performance and low temperature resistance performance, etc.
Applications of titanium tube:
Titanium tube is used in hot exchange equipments including arrange heat exchanger, serpentine, heat exchanger, coiled pipe heat exchanger, condenser, and transport pipeline. Titanium tube is also used in all kinds of corrosive fluid transmission pipeline system, titanium bicycle tube, automobile exhaust pipe and offshore aquaculture.
Titanium tube
is applied in chemical industry, electroplating industry, metal working industry and other fields.
Standard:
ASTMB337, ASTMB338, GB/T3624-1995, GB/T3625-1995
Material:
Gr1,Gr2,Gr3,Gr5,Gr7,Gr9,Gr12
Tubing sizes range:
Φ0-110×0.4~6.0×100-15000 (
Tubing Seamless
/ welded)
Sanhui also provides titanium tubes with special shapes and sizes, like U-shape titanium tube, spiral titanium tube, box-shaped titanium tube, S-shape titanium tube, cone-shape titanium tube, double spiral titanium tube, drum shaped titanium tube, etc..
Sanhui Co., Ltd can produce titanium tube according to customers'drawing. We also provide other titanium products, such as titanium wire, titanium bar, titanium sheet, etc.
Mechanical property of the titanium tube in the room temperature:
Model Number
Status
Tensile Strength /Mpa
Stretch of Specified Residual Force/Mpa
Elongation/%
(L0=50mm)
GR1
M
280-420
more than 170
more than 24
GR2
370-530
more than 250
more than 20
GR3
440-620
more than 320
more than 18
GR7
370-530
more than 250
more than 20
GR12
more than 440
__
more than 18