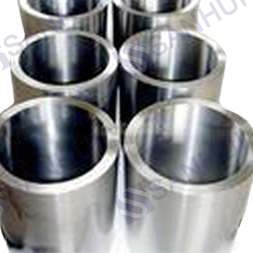 We are a company offers various sizes of
refractory metal
products in forms of wire, rod, bar, plate, sheet, tube and pipe. Our company have over 15 years experience in dealing refractory metal and we have our own company.
Our own factory in Luoyang could offer high quality
zirconium pipe
and
zirconium seamless pipe
according to your specific requirements. We introduced advanced producing line, could offer pure zirconium pipe.
The following is the specification of zirconium pipe and its feature and applications.
Specification of Zr and Zr Alloy Pipe
Standard
ASTM B523,ASTM B768
Material
Zr2,Zr4,R60702,R60704,R60705
Dimension
Size:OD3.0-120mm
Wall thickness:0.5-10mm.
Length:200-6000mm
Feature
1. High special strength high melt point
2. Excellent corrosive resistance
3. Good thermal resistance.
Application
1. Chemical industry
2. Aerospace, Spaceflight
3. Surgical implants
4. Coating
5. Marine engineering and other aspects
6. Electronic components, etc.