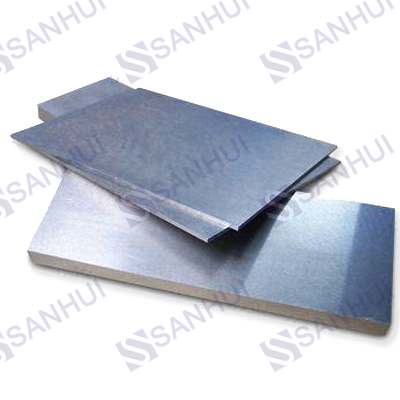 Brief introduction:
Titanium sheet
is produced by hot rolling or cold rolling. After rolling, titanium sheet need to be polished by polishing machine.
Properties of titanium sheet:
Titanium
properties such as: light relative density, high strength and corrosion resistance ensure titanium has wide applications.
The production conditions of
titanium sheet
: hot machining condition, cold machining condition and annealed condition.
The manufacturing technologies of titanium sheet include hot forging, hot rolled, cold rolled, anneal and acid pickling.
Titanium sheet is able to improve productivity and reduce manufacturing expenses of electrolytic copper. So it has better economic benefits.
Titanium sheet metal
has high strength and low density, good mechanical properties, good toughness and corrosion resistance.
Applications of titanium sheet:
Titanium sheet is used to produce aircraft engine compressor's components and structure parts of rocket, missile and high-speed aircraft.
Titanium and its alloy sheet is available.
Sanhui Co., Ltd provides
titanium for sale and manufactures titanium products such as titanium wire, titanium sheet and titanium bar.
| | |
| --- | --- |
| Standard | ASTMB265 AMS4911 ISO5832 ASTM F136 ASTM F67 |
| Thickness | 0.3~50mm |
| Width | <2,000mm |
| Length | <6,000mm |
| Packing | plywood case |
Titanium sheet Specification:
| | | |
| --- | --- | --- |
| Thickness(mm) | Width(mm) | Length(mm) |
| 0.3 - 0.5 | 400 - 600 | 1500 |
| 0.6 - 0.8 | 400 - 800 | 1200 |
| 0.9 - 6.0 | 400 - 1000 | 1000 - 3050 |
| Over 6mm | 400 - 2000 | 1000 - 4000 |
product name
type
thickness
width
length
standard
Titanium sheet
Gr1
0.3-30
<=1150
<=500-3000
ASTMB265 AMS4911 ISO5832 ASTM F136 ASTM F67
Gr2
0.3-30
<=1150
<=500-3000
ASTMB265 AMS4911 ISO5832 ASTM F136 ASTM F67
Gr5
0.3-30
<=1150
<=500-3000
ASTMB265 AMS4911 ISO5832 ASTM F136 ASTM F67
Gr7
0.3-30
<=1150
<=500-3000
ASTMB265 AMS4911 ISO5832 ASTM F136 ASTM F67