Zhengzhou SanHui Co., Ltd
We have more than 25 years of experience in metal manufacturing technology and can provide personal service. You can contact us by sending e-mails to inquire about or place order to our products. We will reply as soon as possible.
High-Quality's Metal Products
,Meticulous Service,Export Experience of 25 Years.
Address: Zhengzhou,Henan,China
Tel: 0086 371 66311492_(China)
Fax: 0086 371 66364729_(China)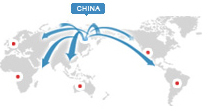 ISO Authentication

IQNet Authentication

Alibaba Gold Supplier