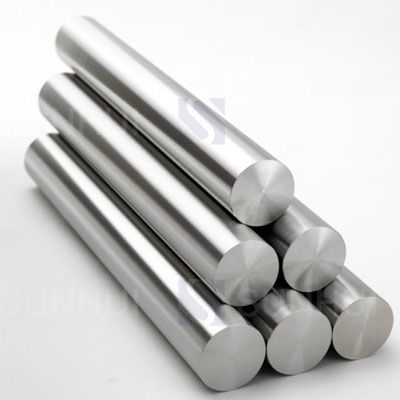 Brief introduction:
Put titanium powder into leather sheath and hammer into titanium rod shape by using machine. Then put
titanium rod
embryonic form into high temperature sintering furnace and lastly finish producing by grinding.
Properties of titanium rod:
Titanium rod has the similar properties as titanium properties, such as high strength, low density, good toughness and corrosion resistance.
Applications of titanium rod:
Titanium uses are wide. So as titanium rod.
Titanium rod can be used in the drawing parts for its good elongation and excellent corrosion-resistance. Titanium rod is also used in pressure,vessel, some fittings parts and fastening pieces. In addition, Titanium rod can be used in the golf clubs and bicycle girders.
Production conditions of
titanium rod
include: hot machining status, cold machining status and annealing status.
Manufacturing technologies of titanium rod: hot forging-hot rolling-grinding.
Sanhui Co., Ltd is an ideal place as for
where to buy titanium
. We provide various titanium products (such as
titanium wire
,
titanium plate
,
titanium bar
, etc.) with excellent quality and reasonable price.
Special requirements will be agreed on by the supplier and buyer of negotiations.
Allowable Deviation of Titanium rod(mm):
Diameter or Thickness
Allowable Deviation
Hot forged rod
Hot roll rod
Cold rolled rod
>7~15
±1.0
+0.6, -0.5
±0.3
>15~25
±1.2
+0.7, -0.5
±0.4
>25~40
±1.5
+1.0, -0.5
±0.5
>40~60
±2.0
+1.2, -0.8
±0.6
>60~90
±2.5
+1.5, -1.0
±0.8
>90~120
±3.0
+2.0, -1.0
±1.0
>120~160
±4.0
——
±1.5
>160~200
±5.0
——
±1.8
>200~230
±6.0
——
±2.0
Deviation of length(mm): L<500, +5max; L>500, +10max
Degree of Curvature:
Processing method
Diameter or Thickness (mm)
Degree of Curvature
(mm/m)
Hot processing
< 35
6
Hot processing
≥35
10
Hot processed, polished
&
cold processed round, square rod
< 35
4
≥35
5