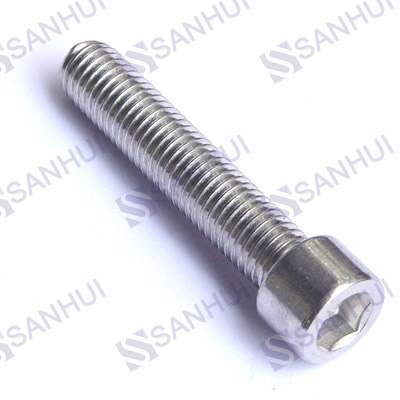 Brief introduction:
Titanium
has advantages such as acid and alkali corrosion resistance, temperature resistance and light weight, which ensures titanium can be manufactured into
titanium nut
to be used in chemical, petroleum, machinery and other fields.
Specification of titanium nut:
M15*30mm
Grade:
Gr1,Gr2...
Tolerance:
0.005mm
State:
annealed
Properties of titanium nut:
Titanium nut has such properties: lightweight, high temperature resistance, low temperature resistance, corrosion resistance, high strength, low density, high specific strength, toughness, strong anti damping properties, non-magnetic, non-toxic, good heat transfer performance, low elastic modulus, suction performance, etc.
Titanium nut adheres to corrosion resistance, bright, light and firm characteristics of
titanium metal
.
Classifications of titanium nut:
Titanium nut can be classified into titanium hex nut, self-locking nut, knurled nut, slotted nut, special non-standard nut, etc.
Applications of titanium nut:
As one of titanium parts, titanium nut is widely used as
fasteners nuts
in ship, chemical, machinery, telecommunications, electronics, aerospace, oil, electroplating, medical, environmental construction, glasses, medical equipment, auto parts, bicycle, titanium equipment and other industrial enterprises in machinery industry.
Chemical Composition Requirements:
Element
Composition ,%
Gr1
Gr2
Gr3
Gr4
Gr5
Gr7
Gr9
Gr11
Gr12
N max
0.03
0.03
0.05
0.05
0.05
0.03
0.03
0.03
0.03
C max
0.08
0.08
0.08
0.08
0.08
0.08
0.08
0.08
0.08
H max
0.05
0.015
0.015
0.015
0.015
0.015
0.015
0.015
0.015
Fe max
0.2
0.3
0.3
0.5
0.4
0.5
0.25
0.2
0.3
O max
0.18
0.25
0.35
0.4
0.2
0.25
0.15
0.18
0.25
Al
5.5-6.75
2.5-3.5
V
3.5-4.5
2.0-3.0
Pd
0.12-0.25